 Powered by NVIDIA GEFORCE® GT 710 GPU Integrated with the first 2048MB DDR3 memory and 64-bit memory interface

Core Clock: 954MHz

Features Dual-link DVI-D / D-Sub / HDMI

Support PCI Express 2.0 x8 bus interface
[BRAND] Gigabyte
[MPN#] N710D3-2GL
>50+ sold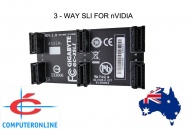 3-Way SLI Bridge with 2 bridge 90mm(L) X 45mm(W)
[BRAND] Gigabyte
>20+ sold
Stock in store
$6.00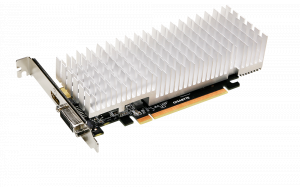 Low profile design with passive cooler

One-click overclocking via AORUS Graphics Engine

Boost: 1506 MHz/ Base: 1252 MHz in OC Mode

Boost: 1468 MHz/ Base: 1227 MHz in Gaming Mode
[BRAND] Gigabyte
[MPN#] N1030SL-2GL
Stock in store
$129.00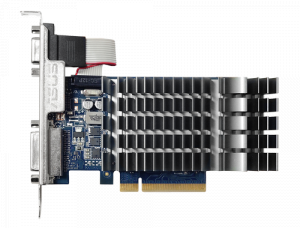 NV GT710, 2GB DDR3, 954MHz, No Fan, Silent, HDMI, DVI, D-SUB, LP bracket
[BRAND] ASUS
[MPN#] 710-2-SL-BRK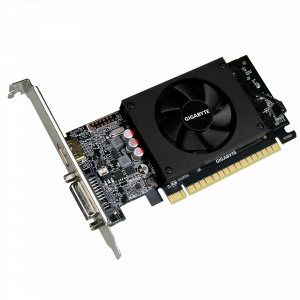 Powered by NVIDIA GeForce GT 710 GPU

Integrated with 2GB GDDR5 64bit memory interface

Core clock: 954MHz

Features Dual-link DVI-I / HDMI
[BRAND] Gigabyte
[MPN#] GV-N710D5-2GL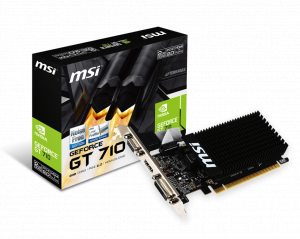 Core/Memory- 954 MHz Core- 2048MB DDR3 1600 MHz Video Output Function- Dual-link DVI-D x 1- HDMI x 1 (Version 1.4a)- D-Sub x 1 Full spec: https://www.msi.com/product/graphics-card/GT-710-2GD3H-LP.html#hero-specification
[BRAND] MSI
[MPN#] GT 710 2GD3H LP
Stock in store
$78.00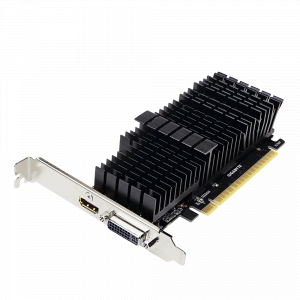 [BRAND] Gigabyte
[MPN#] N710D5SL-2GL
Stock in store
$70.00 [BRAND] Gigabyte
[MPN#] GV-N166SIXOC-6GD
Stocked at supplier
$393.00 [BRAND] Gigabyte
[MPN#] GV-N166SOC-6GD
Stocked at supplier
$402.00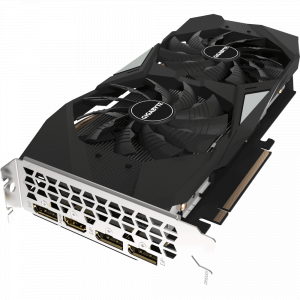 4719331304256
[BRAND] Gigabyte
[MPN#] GV-N2060WF2OC-6GD
Stocked at supplier
$576.00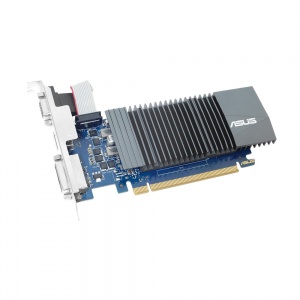 Core Clock: 954MHz
Memory: 2GB GDDR5 5012MHz
Outputs: Dual-link DVI-D / HDMI / VGA (D-Sub)
[BRAND] ASUS
[MPN#] 90YV0AL3-M0NA00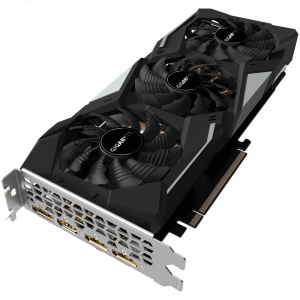 4719331304386
[BRAND] Gigabyte
[MPN#] GV-N2060GAMINGOC PRO-6GD
Stocked at supplier
$635.00

Core Clock: 954MHz
Memory: 2GB GDDR5 5010MHz
Outputs: Dual-link DVI-D / HDMI / VGA (D-Sub)
Low Profile Brackets Included
[BRAND] Gigabyte
[MPN#] GV-N710D5-2GIL
Stock in store
$73.00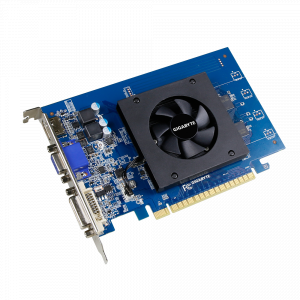 Powered by NVIDIA GeForce GT 710 GPU

Integrated with 1GB GDDR5 64bit memory interface

Core clock: 954MHz

Features Dual-link DVI-D / D-Sub / HDMI
[BRAND] Gigabyte
[MPN#] GV-N710D5-1GI
Stock in store
$48.00

•1506 MHz engine clock in OC mode for outstanding 1080p gaming experience.
•DirectCU II with Patented Wing-Blade 0dB Fans for 30% cooler and 3X quieter performance.
•ASUS FanConnect features 4-pin GPU-controlled header connected to system fans for optimal cooling.
•Industry Only Auto-Extreme
...

more
Technology with Super Alloy Power II delivers premium quality and the best reliability.

[BRAND] ASUS
[MPN#] STRIX-GTX1050TI-O4G-GAMING
No stock
$321.00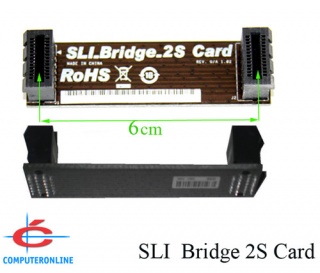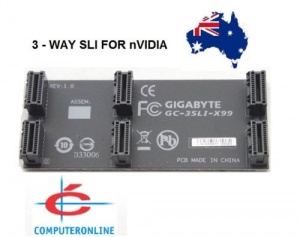 3-Way SLI Bridge with 2 bridge 131mm(L) X 46mm(W)
Stock in store
$9.00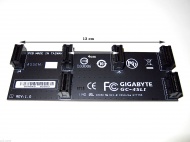 Stock in store
$8.99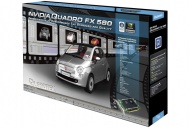 CUDA Parallel Processor Cores: 32
Memory Size Total: 512 MB GDDR3
Memory Interface: 128-bit
Memory Bandwidth (GB/sec): 25.6 GB/sec
[BRAND] Leadtek
[MPN#] W02G0726
Stocked at supplier
$74.00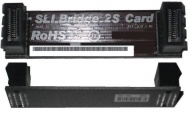 Single link Nvidia SLI Bridge.
Stock in store
$6.00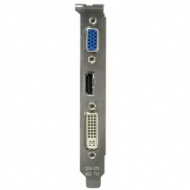 EVGA NVIDIA GeFORCE GT 730 GRAPHIC CARD 2GB DDR3 LOW PROFILE PCI-E 2.0 700MHZ GPU CLOCK SPEED 1400MHZ MEMORY CLOCK SPEED DVI-I + HDMI
[BRAND] EVGA
[MPN#] 02G-P3-2732-KR
Stocked at supplier
$118.00 [BRAND] ASUS
[MPN#] VCA-GTX1650-O4G-PH
Stock in store
$264.00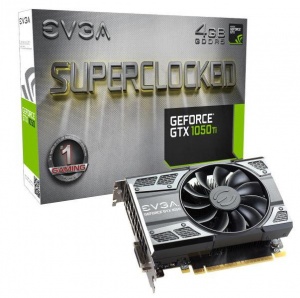 ACX 2.0 Single Fan

1468 MHz Boost Clock

NVIDIA G-SYNC Ready

4GB GDDR5
[BRAND] EVGA
[MPN#] 04G-P4-6253-KR
Stocked at supplier
$297.00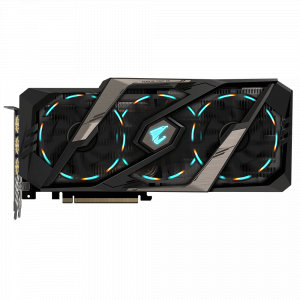 4719331303709
[BRAND] Gigabyte
[MPN#] GV-N208TAORUS-11GC
Stocked at supplier
$2001.00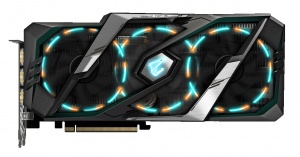 Core: 1770 MHz
Memory: 11 GB, GDDR6, 14140 MHz
[BRAND] Gigabyte
[MPN#] GV-N208TAORUS-X-11GC
Stocked at supplier
$2024.00 [BRAND] ASUS
[MPN#] 90YV0CB0-M0NA00
Stocked at supplier
$169.00 [BRAND] Gigabyte
[MPN#] GV-N730D3-2GI
Stocked at supplier
$102.00 NVIDIA GEFORCE GTX 1050 TI 4GT OCV1 GRAPHIC CARD GDDR5 128BIT DX12 DUAL-LINK DVI-D X 1 DISPLAYPORT X 1 HDMI X 1
[BRAND] MSI
[MPN#] GEFORCE GTX 1050 TI 4GT OC V1
Stocked at supplier
$211.00 Graphics Cards - Consumer
[BRAND] EVGA
[MPN#] 06G-P4-2063-KR
Stocked at supplier
$654.00 [BRAND] ASUS
[MPN#] DUAL-RTX2080TI-O11G
Stocked at supplier
$2143.00 [BRAND] ASUS
[MPN#] 90YV0CT2-M0NA00
Stocked at supplier
$494.00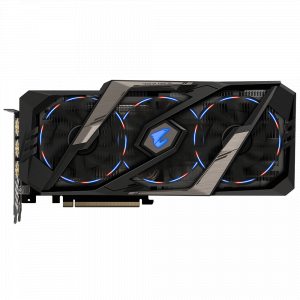 4719331303747
[BRAND] Gigabyte
[MPN#] GV-N2070AORUS-X-8GC
Stocked at supplier
$915.00 Graphics Cards - Consumer
[BRAND] EVGA
[MPN#] 06G-P4-1163-KR
Stocked at supplier
$428.00 [BRAND] ASUS
[MPN#] 90YV0CT0-M0NA00
Stocked at supplier
$485.00 Graphics Cards - Consumer
[BRAND] EVGA
[MPN#] 06G-P4-1263-KR
Stocked at supplier
$544.00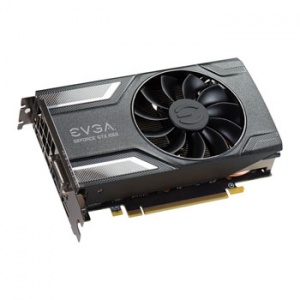 Built for EVGA Precision XOC

NVIDIA GameStream Technology

NVIDIA G-SYNC Ready

NVIDIA Ansel
[BRAND] EVGA
[MPN#] 03G-P4-6162-KR
Stocked at supplier
$468.00 ASUS NVIDIA GT710 GT710-SL-1GD5-BRK
[BRAND] ASUS
[MPN#] GT710-SL-1GD5-BRK
Stocked at supplier
$60.00 [BRAND] ASUS
[MPN#] 90YV0CU2-M0NA00
Stocked at supplier
$395.00 Graphics Cards - Consumer
[BRAND] EVGA
[MPN#] 08G-P4-2173-KR
Stocked at supplier
$1104.00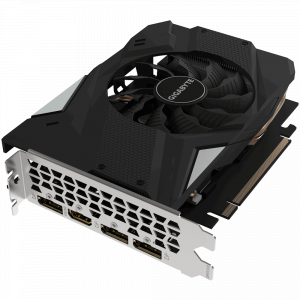 4719331304461
[BRAND] Gigabyte
[MPN#] GV-N166TIXOC-6GD
Stocked at supplier
$449.00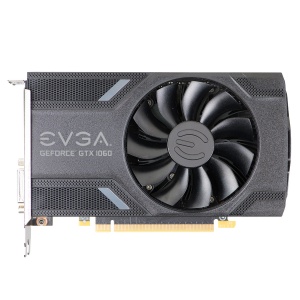 1506 MHz Base Clock

1708 MHz Boost Clock

Built for EVGA Precision XOC

NVIDIA G-SYNC Ready
[BRAND] EVGA
[MPN#] 03G-P4-6160-KR
Stocked at supplier
$395.00 [BRAND] ASUS
[MPN#] 90YV0A74-M0NA00
No stock
$243.00