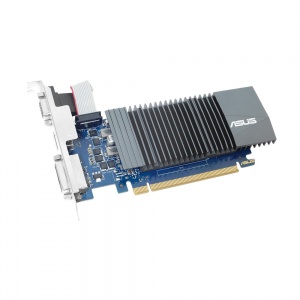 Core Clock: 954MHz
Memory: 2GB GDDR5 5012MHz
Outputs: Dual-link DVI-D / HDMI / VGA (D-Sub)
[BRAND] ASUS
[MPN#] 90YV0AL3-M0NA00
Stock in store
$71.00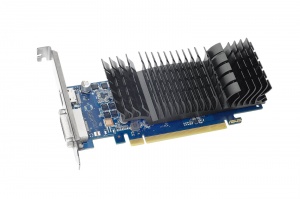 Silent passive cooling means true 0dB - perfect for quiet home theater PCs and multimedia centers.

Level up gaming performance by 6X compared to iGPU.

Enjoy up to 11X better performance in photo and video editing compared to iGPU.

Upgrade your entire PC multimedia experience with 2.5X faster performance than the Intel® Core™ i5.
[BRAND] ASUS
[MPN#] 90YV0AT0-M0NA00
Stock in store
$132.00 [BRAND] ASUS
[MPN#] TUF-3-GTX1660S-O6G-GAMING
Stocked at supplier
$419.00 [BRAND] ASUS
[MPN#] VCA-GTX1650-O4G-PH
Stocked at supplier
$264.00 [BRAND] ASUS
[MPN#] 90YV0CT0-M0NA00
Stocked at supplier
$422.00 [BRAND] ASUS
[MPN#] TURBO-RTX2080S-8G-EVO
Stocked at supplier
$1095.00 [BRAND] ASUS
[MPN#] VCA-GTX1650S-O4G-TUF
Stocked at supplier
$302.00 [BRAND] ASUS
[MPN#] VCA-GTX1660-6G-TUF3
Stocked at supplier
$358.00 [BRAND] ASUS
[MPN#] VCA-RX5700-O8G-EVO-D
Stocked at supplier
$558.00 [BRAND] ASUS
[MPN#] VCA-RTX2080S-O8GDUE2
Stocked at supplier
$1127.00 [BRAND] ASUS
[MPN#] PH-GTX1660S-O6G
Stocked at supplier
$378.00 [BRAND] ASUS
[MPN#] TURBO-RTX2070S-8G-EVO
Stocked at supplier
$766.00 [BRAND] ASUS
[MPN#] VCA-RTX2060S-O8GDUE2
Stocked at supplier
$654.00 [BRAND] ASUS
[MPN#] VCA-RX5600XT-T6G-ROG
Stocked at supplier
$627.00 [BRAND] ASUS
[MPN#] TUF-GTX1660S-O6G-GAMING
Stocked at supplier
$412.00 [BRAND] ASUS
[MPN#] VCA-GTX1660-O6G-TUF3
Stocked at supplier
$431.00 Page 1 | 2 |