-- USB 3.0 to VGA Display Adaptor

$14.00 inc GST

| | |
| --- | --- |
| ■ Our stock | in-stock |
| ■ Brand | -- |
| ■ Part # | U3VG01 |

Actual product may vary from the image
Product Information
USB 3.0 to VGA Display Adapter up to 1920 x 1080
Connects an additional monitor / projector to your computer via USB port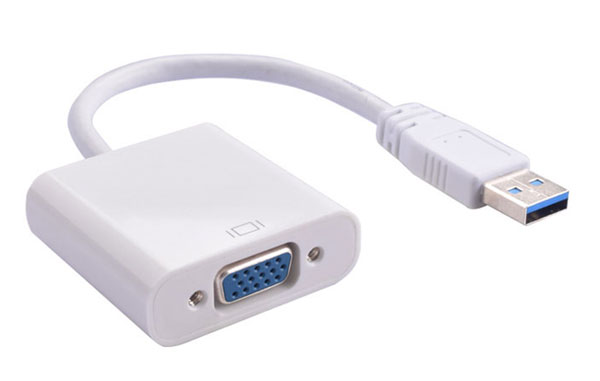 The output resolution depends the USB port of your computer
| | |
| --- | --- |
| USB HOST | Resolution |
| Intel© USB 3.0 | 1920 x 1080 |
| Renesas© uPD720201 / 202 | 1920 x 1080 |
| Renesas© uPD720200 / 200a | 1440 x 900 |
| Asmedia© ASM1042A | 1920 x 1080 |
| Etron© | 1920 x 1080 |
| Fresco Logic© FL1009 / FL1100 | 1920 x 1080 |
| PCI-e Gen1 | 1024 x 768 |
| USB 2.0 | 800 x 600 |
The external monitor/projector can work as:
of your current display.
System Requirements:
An available USB 2.0 / 3.0 port
Windows© 7 / 8 / 8.1; 32 / 64 bit
Note: Mac© / Linux not supported
CPU: 2.8GHz Dual Core (or better)
RAM: 4GB (or more)
For the latest compatible drivers from chipset manufacturer (includes Windows® 10 driver, but only works with some graphic cards in Windows® 10) please use the following link:
https://support.frescologic.com/portal/frescologic/home
On the right hand side of the download page select the windows driver download link that is listed below "USB 3.0 to VGA/HDMI Driver".
UPDATE 13-07-18
Fresco Logic have developed and released a beta driver for Apple Mac, it is now available for download from the following driver download page:
https://support.frescologic.com/portal/kb/articles/fl2000-mac-driver-beta-release
Please keep in mind that this is a "beta driver" and certain functions may only work partially or not at all. If you decide to purchase the "USB 3.0 to VGA Display Adapter" for use with an Apple Mac then please read beta driver page carefully so that you understand which Apple Mac operating systems are supported as well as the level of functionality.
Important Note: Product information is acquired from suppliers and relevant manufacturers. Please check directly with the manufacturers for the most up to date information. While we make every effort to keep this site current and error free, we cannot honour errors which include but are not limited to outdated/incorrect pricing and/or specifications. Prices and specifications can change without notice. Pictures are for illustration purposes only and are not guaranteed to be completely accurate. Individual compatibility of items not guaranteed unless installed and tested by our technicians. Please email us with any specific enquiry.