BD3000 Multi-Region Blu-ray Player
The LASER BD3000 Multi-Region Blu-Ray Player allows you to play discs or media from any country and delivers multimedia versatility. Delivering great value and performance, the LASER BD3000 comes in a small footprint yet packs a punch with Dolby Digital, DTS and cinema quality 24fps playback for the ultimate home theatre event.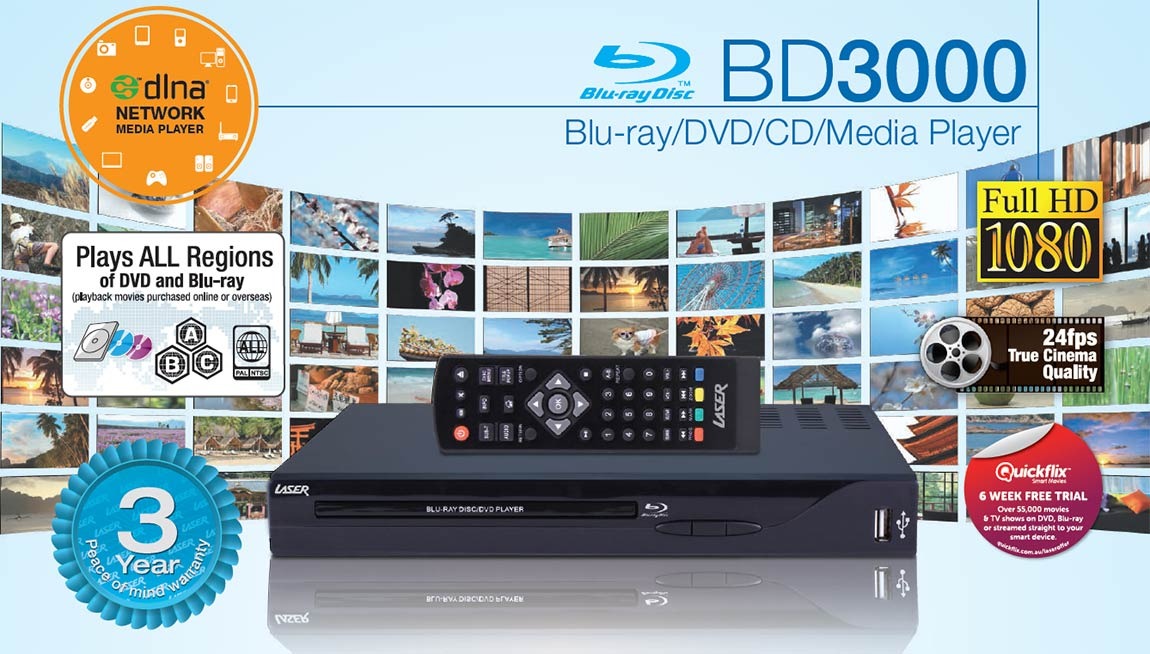 Features:

Plays discs from any country

No blocked DVD or Blu-rays here. Play DVD's or Blu Ray from any country with any region code (A,B,C or 0 to 6) as well as different disk types (-/+R/RW) . Includes Cinavia® copy protected content either on a DVD/Blue Ray disk format, from your usb flash drive or stored on your local network hard drive.

DLNA

With DLNA Connectivity you can connect to and play files from other DLNA devices on your home network. So you may have a movie or pictures on your home PC, which you can easily access with DLNA from the Laser Blu Ray drive.

LAN (cat 5) Connection

A LAN (cat 5) connection is used to access content such as movies, photos or music locted on your home WiFi network via DLNA. Alternately you can also access additional online content for Blu Ray movies equipped with BDLive and MovieIQ. BD-Live 2.0 is a standard for Blu-ray players that utilizes your internet connection and allows you to view additional content such as alternate movie endings, movie take outs or other movie trailers. (note; you should check that the blu ray movie you have has a BD Live feature)
Inbuilt Media Player

The inbuilt Media Player allows you to play movies, music and photos easily from your USB, disk, hard drive or local network. Covering a wide range of file formats, it allows you to watch movies on your big TV, instead of your laptop or PC. What's even better is that with Cinevia copy protection disabled, you can play those torrent movies without interuption. (yes, of course - we condone privacy of copyright material)
DVD upscaling
Watch DVD movies (which are 480 resolution) on a big screen TV (in 1080 resolution). The processor on board the Laser Blu Ray upscales the base image by intelligently filling in missing pixels to produce a clearer image ready for large screens, giving you a higher-resolution image. So get out all your old DVD's and start watching them again in 1080 HD resolution.
Digital Surround Sound
Have you got a surround sound system? Whether it's a "Home Theatre in a Box 5.1" or a dedicated AV reciever with up to 11.1 speakers, the LASER Blu Ray can decode and play Dolby Digital True HD and DTS HD Master Audio soundtracks. Crystal clear sound with a large dynamic range, you will hear clear channel separation and booming bass whilst still being able to hear the centre voices.

​
With auto scaling playback, all resolutions up to 1080p FULL HD are covered. 24fps encoded blu Ray movies can also be played back to give you the authentic cinema experience. (only works with 24fps compatible TV's and projectors)
Connections
- Digital Audio (Coaxial) - this is a single RCA (the black plug) which connects to AV recievers or surround processors which have a digital to analogue (D/A) converter. Pure digital output only.
- L/R Audio (RCA) - these are the conventional white (left) and red (right) analogue audio outputs for TV's or basic amplifiers, soundbars, etc.
- HDMI - use this for all recent TV's, amplifiers, HDMI sound bars, processors and so on.
- Cat 5 LAN - this connects with a cat 5 data cable (like you computer) to a network hub, router, switch, modem so you can access online content from your Blu Ray player.

Other Features

Quality SonyTM Optical Laser for superior video quality

Small footprint

Supported media: BD- BDMV, BDAV, BD-ROM, BD-R/RE, DVD- DVD-VIDEO, ROM, +/- R/W, DL, CD- CD-DA, DTS-CD, VCD, SVCD, JPGCD, CD-R/W
SPECIFICATIONS
General
Weight(kg)
2.2
Dimensions(mm)
260 X 189 X 39
Warranty(month)
36
Inner Carton Qty
10
Master Carton Qty
20
EAN barcode
9335432023442
3 key feature benefits
1: Full HD 1080p with 24fps Cinema Quality picture 2: Multi region playback - buy your movies anywhere 3: Playback files saved to USB devices
General Specification
Remote control
Y
Playable Disk Types
Blu-ray Disc Video: BD-R/RE2.0, BDAV, DVD: DVD-Video/DVD-R/+R /DVD-RW/+RW/SVCD/CD-R/CD-RW/CD-Audio, AVCHD, AVCREC disc
USB Port (on front panel)
Y
Front panel Display (LCD)
Y
DVD Region Code
All
Blu Ray Region Code
All (Region A, B or C)
Accessories included
Remote Control, Product manual
Connections
Composite Video (Yellow RCA)
Y
Component Video PbPrY (Red, Green, Blue RCA)
N
HDMI (Video and Audio)
Y
Stereo (Left/Right - White/Red RCA)
Y
Digital Audio (CoAx (Orange) RCA)
Y
5.1 Channel Direct Out (RCA)
N
Ethernet Port (network RJ45)
N
USB 2.0 port
Y
Features
BD Live (profile 2.0) (Blu Ray only)
N
BD Bonus View (Blu Ray Only)
N
Parental Lock
Y
Screen Saver
Y
Standby Power save mode
Y
ON Screen Menu
Y
Colour System
PAL/NTSC/MULTI
Cinavia encoded file playback
Y
Video
Full HD (1080p) picture quality
Y
DVD upscaling (480 to 720 or 1080p)
Y
24fps True Cinema frame rate
Y
Subtitles
Y
Last playback position memory
Y
View image & video files
Y
Aspect Ratio Select (16:9 to 4:3)
Y
Language Select
Yes. Multiple languages for OSD
Progressive Scan Playback
Y
Camera Angle Select
Y
HDMI Deep Colour
If you find cheaper price than us within Australian websites, please
Click here
.