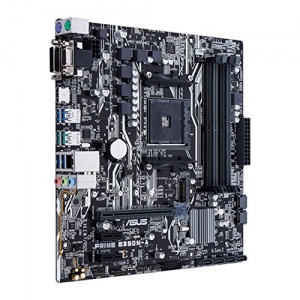 5X Protection III: Multiple hardware safeguards for all-round protection

LED illumination: Lighting control for both PCIe slot and audio trace paths

Native M.2: Lightning-fast storage speeds

Onboard USB 3.1: Latest connectivity for ultrafast 10Gbps transfers

One-stop controls: Media-acclaimed UEFI BIOS with EZ Flash 3
[BRAND] ASUS
[MPN#] PRIME B350M-A
Stocked at supplier
$109.00 [BRAND] Gigabyte
[MPN#] GA-X470-AORUS-GAMING-7-WIFI
Stocked at supplier
$418.00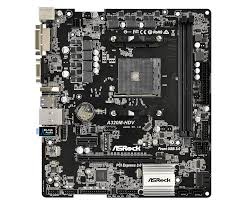 ASRock Super Alloy

Supports AMD Socket AM4 A-Series APUs (Bristol Ridge) and Ryzen Series CPUs (Summit Ridge)

Supports DDR4 3200+ (OC) (Ryzen CPU) / 2400 (A-series APU)

Realtek Gigabit LAN
[BRAND] ASrock
[MPN#] A320M-HDV
Stocked at supplier
$85.00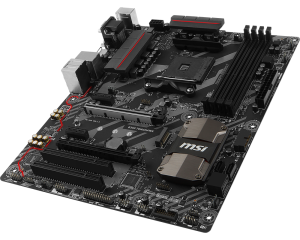 •Lightning Fast Game experience: Turbo M.2
•Audio Boost with Nahimic 2: Reward your ears with studio grade sound quality for the most immersive gaming experience
•GAMING LAN with LAN Protect: The best online gaming experience with lowest latency and bandwidth management
•Military Class 4,
...

more
Guard-Pro: Latest evolution in high quality components for best protection and efficiency

[BRAND] MSI
[MPN#] B350 TOMAHAWK
Stocked at supplier
$156.00 Fatal1ty X370 Gaming-ITX/ac, Super Alloy, AMD Socket AM4 A-Series, DDR4, PCIe 3.0 x16, SATA3, USB 3.0, 3yrs warranty
[BRAND] ASrock
[MPN#] X370-GAMING-ITX/AC
Stocked at supplier
$223.00

•Best gaming audio: SupremeFX S1220 teamed with Sonic Studio III, cast an aural landscape that draws you deeper into the action.
•Best gaming networking: Intel Gigabit Ethernet, LANGuard GameFirst and 2x2 802.11ac Wi-Fi with MU-MIMO support.
•Best gaming connectivity: Dual M.2 and USB 3.1 Gen 2 Type-A and
...

more
Type-C™ connectors.
•Best gaming durability: ASUS Safeslot and premium components for maximum durability

[BRAND] ASUS
[MPN#] ROG CROSSHAIR VI EXTREME
Stocked at supplier
$486.00 AM4, B350, 2 DIMM, DDR4, SATA 6Gb/s, 1 x HDMI, 1 x DP, 6 x AJ, Mini ITX
[BRAND] Gigabyte
[MPN#] GA-AB350N-GAMING-WIFI
Stocked at supplier
$171.00 A320M PRO-VH PLUS AMD M-ATX MOTHERBOARD PRO AM4 2XDDR4 1XM.2 4XSATAIII USB3.0X 6 USB2.0X 6 1X PCI-EX16 2X PCI-EX1 D-SUB HDMI ALC887 RTL 8111H TPM
[BRAND] MSI
[MPN#] A320M PRO-VH PLUS
Stocked at supplier
$94.00 [BRAND] Gigabyte
[MPN#] GA-X470-AORUS-GAMING-5-WIFI
Stocked at supplier
$342.00 [BRAND] ASUS
[MPN#] 90MB0XE0-M0UAY0
Stocked at supplier
$337.00 [BRAND] ASUS
[MPN#] 90MB0XG0-M0UAY0
Stocked at supplier
$297.00 [BRAND] ASUS
[MPN#] PRIME B450M-A
Stocked at supplier
$133.00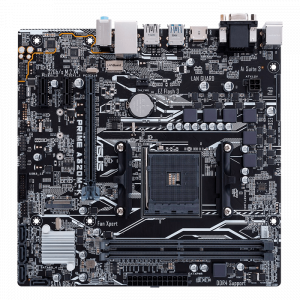 5X Protection III: Multiple hardware safeguards for all-round protection

LED illumination: Lighting control for audio trace paths

Native M.2: Lightning-fast storage speeds

One-stop controls: Media-acclaimed UEFI BIOS with EZ Flash 3
[BRAND] ASUS
[MPN#] PRIME A320M-K
Stocked at supplier
$82.00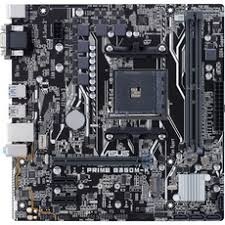 5X Protection III: Multiple hardware safeguards for all-round protection

LED illumination: Lighting control for audio trace paths

Native M.2: Lightning-fast storage speeds

One-stop controls: Media-acclaimed UEFI BIOS with EZ Flash 3
[BRAND] ASUS
[MPN#] PRIME B350M-K
Stocked at supplier
$90.00 [BRAND] ASUS
[MPN#] 90MB0XL0-M0UAY0
Stocked at supplier
$257.00 B350M MORTAR AM4 AMD B350 SATA 6GB/S USB 3.1 HDMI MICRO ATX MOTHERBOARD
[BRAND] MSI
[MPN#] B350M MORTAR
Stocked at supplier
$127.00 [BRAND] ASUS
[MPN#] 90MB0XH0-M0UAY0
Stocked at supplier
$337.00 AMD AM4 X370 mini-ITX gaming motherboard with discrete M.2 Audio Combo Card design, dual M.2, USB 3.1 Gen2, 802.11ac Wi-Fi, DDR4 3600MHz and Aura Sync
[BRAND] ASUS
[MPN#] 90MB0VE0-M0UAY0
Stocked at supplier
$267.00