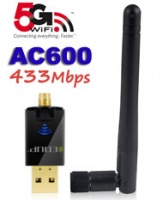 Faster 433Mbps @5GHz / 150Mbps @2.4GHz dual band wireless USB adapter with 2dBi antenna. Windows OS (From XP ~ 10) supported
[BRAND] EDUP
[MPN#] EP-DB1607
>300+ sold
Stock in store
$15.00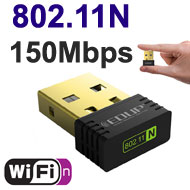 mini sized USB WiFi dongle. Supports Windows, Mac OS and Linux operating system.
[BRAND] EDUP
[MPN#] EP-N8553
>300+ sold
Stock in store
$10.00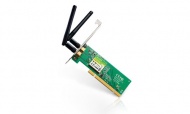 The TL-WN851ND Wireless N PCI Adapter complies with IEEE 802.11n (Draft 2.0), IEEE 802.11g, and IEEE 802.11b standards. Wireless transmission rates can reach up to 300Mbps. The PCI card employs MIMO technology and has two external detachable omni directional antennas providing even better wireless performance, transmission rates, stability and
...

more
coverage. At the same time, CCA technology automatically avoids channel conflicts using its channel selection feature. This product supports 64/128/152-bit WEP encryptions, as well as WPA/WPA2 and WPA-PSK/WPA2-PSK encryptions and mechanisms in addition to the adapters QSS (Quick Secure Setup) feature, allowing users to quickly and easily configure wireless security. This product can also simultaneously operate bandwidth intensive applications such as voice and video. Applications using a lot of bandwidth that are sensitive to interruptions such as voice and video applications are given priority in order to assure quality. It also works well with other 11g and 11n protocol wireless products.

[BRAND] TP-Link
[MPN#] TL-WN851ND
>300+ sold
Stocked at supplier
$26.00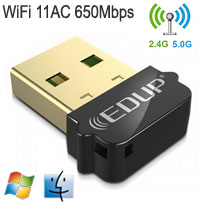 Realtek 8811AU chipset. •Speed up to: 433Mbps at 5GHz | 150Mbps at 2.4GHz. Windows XP / Vista / 7 / 8 / 8.1 / 10, Mac OS and Linux supported
[BRAND] EDUP
[MPN#] EP-AC1619
>300+ sold
No stock
$14.00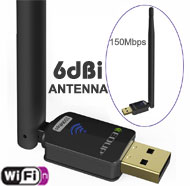 High gain 6dBi antenna
Windows / Mac OS X / Linux
[BRAND] EDUP
[MPN#] EP-MS8551
>50+ sold
Stock in store
$6.50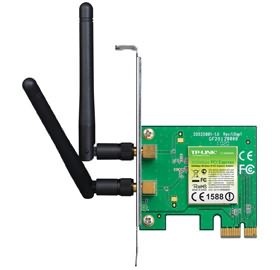 NEW TP-LINK TL-WN881ND 300Mbps Wireless N PCI Express Adapter, Atheros, 2T2R, 2.4GHz, 802.11n/g/b, 2 detachable antennas. - Wireless N speed up to 300Mbps makes it ideal for video streaming, online gaming and Internet calls - 2T2R MIMO™ delivers greater throughput at range versus conventional 1T1R - Easily setup a highly secured wireless
...

more
link with QSS software embedded - Supports 64/128 WEP, WPA /WPA2/WPA-PSK/WPA2-PSK(TKIP/AES), supports IEEE 802.1X - Supports Windows 7 32/64bit, Windows XP 32/6

[BRAND] TP-Link
[MPN#] TL-WN881ND
>50+ sold
Stock in store
$24.00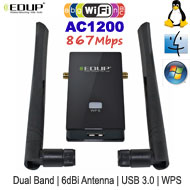 Dual Band 802.11ac USB dongle. Supports both 2.4GHz & 5.8GHz at the same time, provides max. transfer speed at 300Mbps @2.4G and 867Mbps @5.8G. USB 3.0 interface, WPS (Push 'n' Connect) button, 6dBi antennas, MediaTek MT7612U chipset. Windows / Mac OS / Linux supported
[BRAND] EDUP
[MPN#] EP-AC1605
>50+ sold
Stock in store
$38.00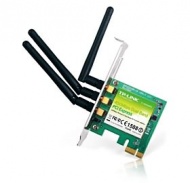 [BRAND] TP-Link
[MPN#] TL-WDN4800
Stock in store
$60.00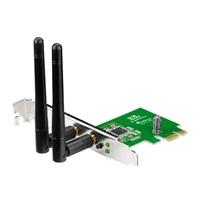 ASUS PCE-N15 300Mbps 802.11b/g/n Wireless PCI-E Adapter -WPS(Wi-Fi Protected Setup) button - Quickly set up a secure wireless connection -Software AP - Connect your notebook and game consoles to the Internet -Supports WEP, WPA-PSK, and WPA2-PSK methods for enhanced security * 300Mbps datarate * Xlink Kai support : PSP and NDSL on-line gaming * plug and forget design
Stock in store
$27.00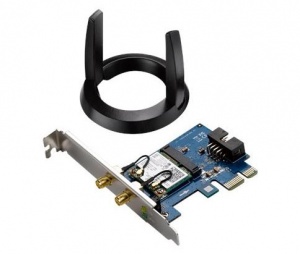 AC1200 Dual-Band Wireless Bluetooth 4.0, Antenna
[BRAND] ASUS
[MPN#] 90IG02Q0-MG0010
No stock
$86.00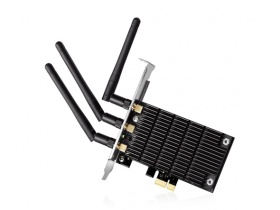 TP-LINK Archer T9E AC1900 Wireless Dual Band PCI Express Adapter Easy Installation – Upgrade your desktop system easily by plugging the Archer T9E Wi-Fi adapter into an available PCI-E slot. Hi-Speed Wi-Fi – Up to 1900Mbps Wi-Fi speeds (1300Mbps on 5GHz band or 600Mpbs on 2.4GHz band) 802.11ac Dual Band – 3 times faster than the
...

more
802.11n standard, perfect for hi-intensity network usage Backward Compatibility – With support for 802.11 a/b/g/n standards Beamforming Technology – Receives more directional Wi-Fi signals, improving speed and reliability Ultimate Range – 3 external antennas ensure a greater range of Wi-Fi connection and stability

[BRAND] TP-Link
[MPN#] TL-ARCHER-T9E
Stocked at supplier
$95.00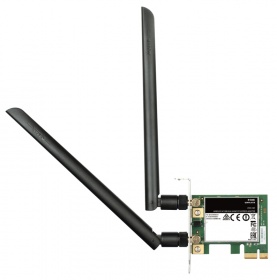 Wireless AC1200 Dual Band PCIe Desktop Adapter
[BRAND] D-Link
[MPN#] DWA-582
Stocked at supplier
$93.00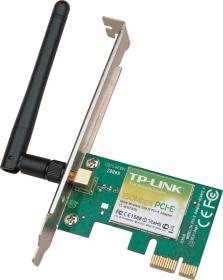 TP-Link 150M Lite-N Wireless PCI Express Adapter works with 802.11n/g/b
[BRAND] TP-Link
[MPN#] TL-WN781ND
Stocked at supplier
$19.00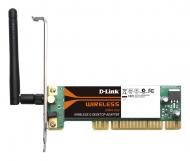 *Wireless G Desktop Adapter
* Easily connect to your wireless network to get online from your desktop or notebook PC
* Works with 802.11g and 802.11b wireless networks
* Connects to user to wireless network from desktop PC using the DWA-510 Wireless G Desktop Adapter and browse the web, check e-mail, and chat with friends and
...

more
family online
* Protect data & privacy, the Wireless G Desktop Adapter supports WEP and W encryption for connecting to a secure wireless network.

[BRAND] D-Link
[MPN#] DWA-510
Stock in store
$15.00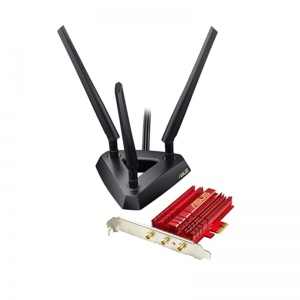 AC1900 Dual-Band Wireless PCI-Express Adaptor, 802.11a/b/g/n/ac
[BRAND] ASUS
[MPN#] PCE-AC68
Stocked at supplier
$129.00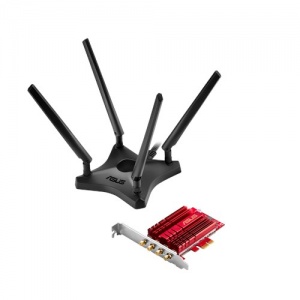 AC3100 Dual-Band , WiFi PCI-E card, 802.11ac 2100Mbps+802.11n 1000Mbps
[BRAND] ASUS
[MPN#] PCE-AC88
Stock: 02-03-18
$177.00