-- 20+6 Pins SSD to SATA Converter / Adapter for Lenovo X1 Carbon Ultrabook

$18.00 inc GST

| | |
| --- | --- |
| ■ Our stock | in-stock |
| ■ Brand | -- |
| ■ Part # | ZHK-1 |

Actual product may vary from the image
Product Information
20+6 pins SSD to SATA Converter for Lenovo X1 Carbon
Notebook SSD drive to standard SATA connection converter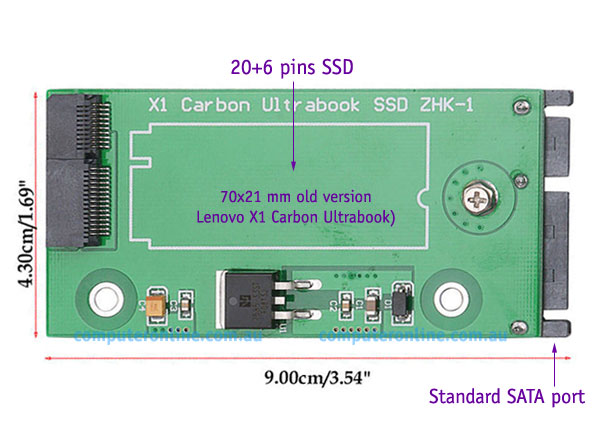 Suitable for 20+6 pins 70 x 21mm sized SSD from Lenovo X1 Carbon Ultrabook
(old version, new version comes with 67-pin M.2 SSD)
Including but not limited to:
Sandisk 45N8296/45N8297, SD5SG2 45N8298/45N8299 (leveno P/N NO) 128GB 256GB SSD, 45N8327 SSD SFF 128 GB
Toshiba THNSNS128GMGP/45N8300 /45N8301 128GB;45N8303 SSD SFF 256 GB,45N8305 SSD SFF 180 GB Cherr Crest
Intel 45N8422/45N8423(leveno P/N NO) 240GB FDE Cherry Crest SSD;45N8421 SSD SFF 120GB Cherry
Important Note: Product information is acquired from suppliers and relevant manufacturers. Please check directly with the manufacturers for the most up to date information. While we make every effort to keep this site current and error free, we cannot honour errors which include but are not limited to outdated/incorrect pricing and/or specifications. Prices and specifications can change without notice. Pictures are for illustration purposes only and are not guaranteed to be completely accurate. Individual compatibility of items not guaranteed unless installed and tested by our technicians. Please email us with any specific enquiry.
If you find cheaper price than us within Australian websites, please
Click here
.