Features:
-With 20 meters underwater case
-1280*720 30fps HD video quality
-120 degree wide angle for better picturing -Snapshot function
-With multiple bracket for an easy and pleasant record
-Two indicator for simple operation -Thumb size alloy housing
-AVI video format to view on PC or upload to video website
-Low illumination, high resolution with 3 megapixels -Built-in li-battery last for 2 hours continual recording
Specifications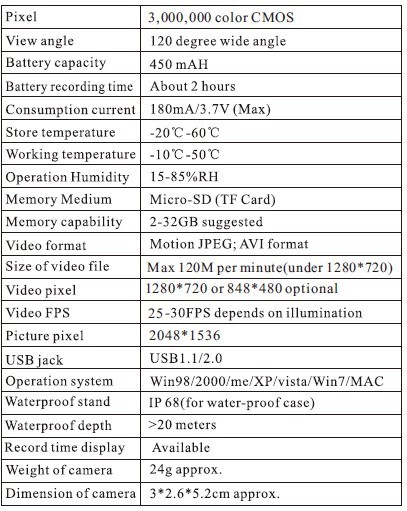 Time Settings:
In order to set the date and time, please follow the instructions below:
1. Format all of your SD card.
2. Create a TXT file with this name TIMESET.TXT
3. Into this file, write this format, write only the numbers 2014 05 06 10 35 00
4. Switch on your camera and wait for the second vibration, then you can take a picture or video and you'll see that your date and time is changed.
If you find cheaper price than us within Australian websites, please
Click here
.