Memory: SO-DIMM for Apple Mac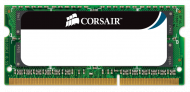 CORSAIR Mac Memory, 4GB 1066MHz C7 DDR3 SODIMM supports Apple iMac, MacBook and MacBook Pro 4GB (1x4GB). Tested at Apple's Compatibility Labs to ensure best functionality with all current products that have official Apple support for 4GB SO-DIMMs. Specifications: * Density: 4GB (1x4GB SO-DIMM); * Speed: 1066MHz CL7 * Timing: 7-7-7-20 (1066 MHz); *
...

more
Type: DDR3; * Format: SO-DIMM; * Pin Out: 204 Pin; * Voltage: 1.5V

[BRAND] Corsair
[MPN#] CMSA4GX3M1A1066C7
Stocked at supplier
$34.00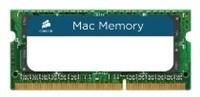 CORSAIR Mac Memory, 4GB 1333MHz CL9 DDR3 SODIMM supports Apple iMac, MacBook and MacBook Pro 4GB (1x4GB). Tested at Apple's Compatibility Labs to ensure best functionality with all current products that have official Apple support for 4GB SO-DIMMs. Specifications: * Density: 4GB (1x4GB SO-DIMM); * Speed: 1333Hz CL9 * Timing: 9-9-9-24 (1333 MHz); *
...

more
Type: DDR3; * Format: SO-DIMM; * Pin Out: 204 Pin; * Voltage: 1.5V

[BRAND] Corsair
[MPN#] CMSA4GX3M1A1333C9
Stocked at supplier
$51.00