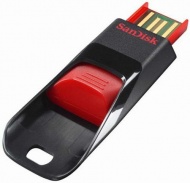 Store, protect and transfer your video, music, or photo files with the compact and stylish Cruzer® Edge™ USB flash drive. With its simple slider design, it's perfect for taking your favorite files with you. You can also keep your data safe from prying eyes with the included SanDisk SecureAccess™ software.
[BRAND] Sandisk
[MPN#] SDCZ51-032G-BQ35
>20+ sold
Stock in store
$15.00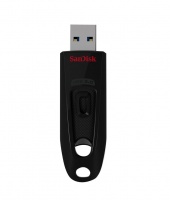 "Sandisk 32GB Ultra Usb 3.0 Flash Drive SDCZ48-032G-UQ46: The SanDisk Ultra USB 3.0 Flash Drive combines faster data speeds and generous capacity in a compact, stylish package. With transfer speeds of up to 80MB/s, this USB 3.0 flash drive can move files up to four times faster than USB 2.0 drives
**
. With storage
...

more
capacities up to 64GB, the drive can accommodate your bulkiest media files and documents."

[BRAND] Sandisk
[MPN#] FUSSAN32GCZ48U3
Stocked at supplier
$10.00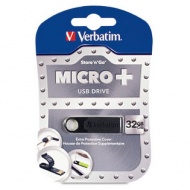 [BRAND] Verbatim
[MPN#] 97763
Stocked at supplier
$26.00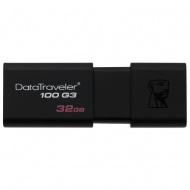 [BRAND] Kingston
[MPN#] FUSKIN32GB100G3-B
Stocked at supplier
$11.00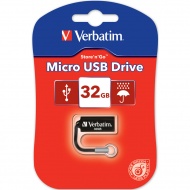 44051 Store'n' Go Micro USB Drive Black 32GB
[BRAND] Verbatim
[MPN#] 44051
Stocked at supplier
$29.00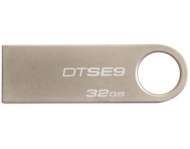 32GB USB 2.0 DataTraveler SE9 (Metal cas
[BRAND] Kingston
[MPN#] DTSE9H/32GB
Stocked at supplier
$12.00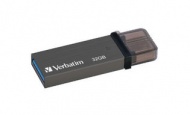 Verbatim Store?N?Go OTG USB 3.0 Drive 32GB The Store n Go OTG Titanium Drive is a high performance dual head USB drive providing both microUSB and USB 3.0 interfaces. Specially designed for OTG enabled portable devices like smart phones, and tablets, it provides users ultimate convenience for storing, and sharing digital content such as movies,
...

more
pictures, and music, between all compatible devices.Key Specifications: Compact size: 37.3x12.26x4.56mm, weighing 3gStores and transfers data between OTG-compatible devices (Smartphones, PC, and Tablets) without needing a cable or host PCIncludes a key chain to prevent cap lossHot-swappable plug and playUSB 3.0 SuperSpeed (comptiable with USB 2.0)Lifetime limited warranty Colour ? Titanium

[BRAND] Verbatim
[MPN#] 64497
Stocked at supplier
$21.00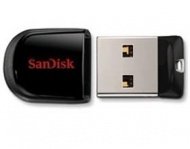 With its advanced data security options and spacious capacity, the Cruzer Fit USB Flash Drive gives you a secure, easy way to transfer your personal files. This USB drive features a convenient low-profile design that's ideal for situations where a full-size USB drive is just too big, such as use with a TV or car audio device. The Cruzer FitUSB
...

more
also connects easily to computers and tablets.Low-profile design for easy USB connectivityStore all your most important data with capacities up to 32GB**1 gigabyte (GB) = 1 billion bytes. Some capacity not available for data storage.SanDiskSecureAccess™ software provides password protection** Registration required. Terms and conditions apply. Internet connection required.Includes up to 2GB of online backup optionally available from YuuWaa** Password protection uses 128-bit AES encryption and is supported by Windows® XP, Windows Vista®, Windows 7, and Mac OS X v10.5+ (Software download required for Mac, see the SanDisk SecureAccess page.)Fits unobtrusively in a tablet or car audio USB port

[BRAND] Sandisk
[MPN#] SDCZ33-032G-BQ35
Stocked at supplier
$11.00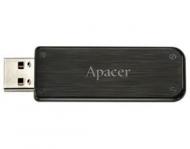 Retractable USB Connector , High-Speed USB 2.0 certified, backward compatible with USB 1.1, LED indicates data transferring status, System support: Windows 98/98SE/2000/ME/XP/Vista, Mac OS 8.6 and Linux kernel 2.4.0 or above(drivers required for Windows 98/98SE), Read up to: 10MB/sec ; Write up to: 3MB/sec.* (Speed may vary due to hardware, software and usage.)
[BRAND] Apacer
[MPN#] AP16GAH325B-1
Stocked at supplier
$13.00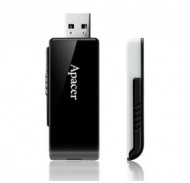 - USB3.0
- USB2.0 Backward Compatible
- Hidden Side Push Key
- Compact & Streamlined Design

USB Interface: SuperSpeed USB3.0; backwards compatible with USB2.0
Color Scheme: Black
Power Supply: USB bus powered; No external power requi
[BRAND] Apacer
[MPN#] AP32GAH350B-1
Stocked at supplier
$41.00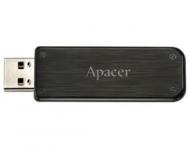 Retractable USB Connector , High-Speed USB 2.0 certified, backward compatible with USB 1.1, LED indicates data transferring status, System support: Windows 98/98SE/2000/ME/XP/Vista, Mac OS 8.6 and Linux kernel 2.4.0 or above(drivers required for Windows 98/98SE), Read up to: 10MB/sec ; Write up to: 3MB/sec.* (Speed may vary due to hardware, software and usage.)
[BRAND] Apacer
[MPN#] AP32GAH325B-1
Stocked at supplier
$21.00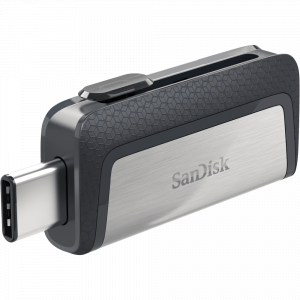 SanDisk Ultra Dual Drive USB Type C, SDDDC2 32GB, USB Type C, Black, USB3.1/Type C reversible connector, Retractable Design , Type-C enabled Android
[BRAND] Sandisk
[MPN#] SDDDC2-032G-Q46
Stocked at supplier
$16.00