Monitors: AOC
| | |
| --- | --- |
| | |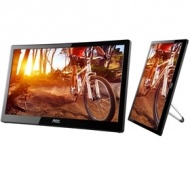 15.6" AOC e1659Fwu FQ1 15.6" LED, USB 3.0 Portable Monitor, 5ms, 1366x768, Contrast 500:1, Auto Pivot, VESA 75x75mm Multi-Task worktable. Up to six monitors when connected to Laptop/PC via USB hub. (Make sure Power is enough on USB hub.) Slim thckness: 22.9mm USB 3.0 Superpeed (5.0Gps) synchronous data transmission. 15'6" LED 200cd/m2, 500:1, 5ms
...

more
(GTG) 16.7 Million colours, USB 3.0 x1 Portrait: Auto Pivot Feature Perfect for Technician, On-site Support, showroom, bank, hotel, retail stores.

[BRAND] AOC
[MPN#] E1659FWU
Stock in store
$145.00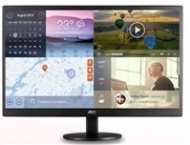 19.5" AOC e2070Swn (LCD, TN+Film , Wide, LED, 16:9, 1600×900, 1000:1, 200 cd/m2, 5ms, 170°/160°, D-Sub, Black) * 19.5" Widescreen 1366x768p resolution * 5ms Response, 20,000,000:1 Contrast (DCR) * Brightness: 25 cd/m2 * Wall-mount ready (100x100mm) *Ultra Low Power Consumption *LED Panel: Hg Free * 3 Years Nationwide Pickup & Return
...

more
Warranty Packing Pallets 19.5" W FOB Factory L&T Panel size 19.5" W 170/160 (CR=10) Screen Ratio 16:9 Response Time (Typical) 5ms Recommonded Resolution 1600×900@60Hz Contrast Ratio 600:1 (Typical),20000000:1 (DCR) Brghtness (Typical) 200 cd/m² Display Color 16.7M Viewing Angel (H/V) 90/50 Viewable Image Size (mm) 494.11 Display Area 433.92(H)×263.34 (V)mm Pixel Pitch (mm) 0.2712 Scan Frequency (H/V) 30-83KHz/ 50-76Hz Pixel Frequency 140MHz Input Signal Analog Input Connector 15-pin D-Sub Cable D-sub Built-in Speaker N/A HDCP Compatible N/A Input Power 100-240VAC, 50/60Hz Power Supply Build- in Operation Mode (W) 18W Stand by Mode (W) <0.5W Wall- Mount VESA 100x100mm Cabinet Color Black Phys. (W×H×D) mm 464.63×346.35×156 Package Box (W×H×D) mm 519×359×107 Weight (Net/ Gross)(Kg) 2.11/3.21 Tilt -3°~10° Pivot N/A Height Ajust N/A Swivel N/A Kensington lock YES Temperature Operating 0°C ~+40°C Temperature Non-Operating -25°C - 55°C Humidity Operating 10% to 85% Humiditiy Non-Operating 5% to 93% Altitude Operating 12,000 feet Altitude Non-Operating 40,000 feet Plug & Play VESA DDC2B™ & DDC2B/CI User Control Power/Auto Usb plug N/A OSD Languages by I-menu 13 languages Safety Regulation cCSAus,FCC,EPA 6.0,Windows 8,C-Tick,CH ROHS,CEL,CCC,ISO 9241-307,EPEAT,CECP Special Features 1. Low Power with LED PANEL,2. Hair-Line Texture Design,3. High DCR 20m:1,4. E-saver/I-menu/Screen Plus software

[BRAND] AOC
[MPN#] E2070SWN
Stock in store
$109.00 Practical Good Looks. The AOC 70 Series is the ultimate sensible business monitor: outstanding value, efficient energy consumption, classic styling and excellent display technology.
[BRAND] AOC
[MPN#] E2770SH/75
Stocked at supplier
$212.00 Stocked at supplier
$285.00 4717385944565
Stocked at supplier
$42.00

*All new monitors are 3-year manufacture warranty