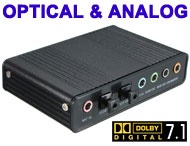 USB sound adapter with digital and analog out & input. Windows© 10 / 8.1 / 8 / 7 / Vista / XP both 32 & 64bit supported. 5.1 channels for analogy output; 7.1 channels for digital output. CM6206 chipset
Stock in store
$25.00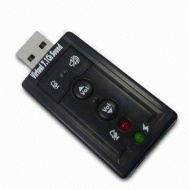 USB sound adapter. Windows© 10 / 8.1 / 8 / 7 / Vista / XP both 32 & 64bit; Windows© 2000 / Server 2003 / Me / 98; Mac© OS 10 or above; Linux
Stock in store
$8.00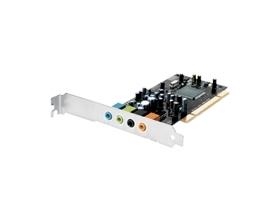 No stock
$18.00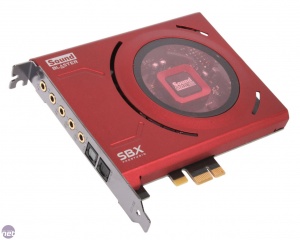 Sound Blaster Z, part of the ultra high-performance Z-Series of Sound Blaster sound cards, is an ideal all-round solution for your PC gaming and entertainment needs
[BRAND] Creative
[MPN#] CRV-70SB150000002
Stocked at supplier
$198.00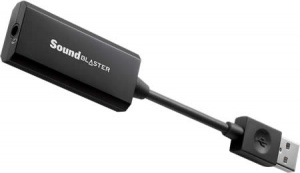 The Sound Blaster Play! 2 is a USB sound card gives users a true to life 3D audio soundstage, and noiseless recordings for podcasts and video conferencing. Compatible with all analog headsets and earbuds, the Sound Blaster Play! 2 delivers powerful audio via SBX Pro Studio technology, full audio settings customisation via Sound Blaster Play! 2
...

more
Control Panel, and optimised profiles for select earphone brands.

[BRAND] Creative
[MPN#] CRV-70SB162000000
Stock in store
$40.00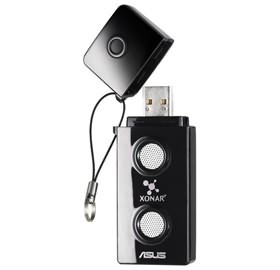 Asus Xonar-U3,Headphone amplifier: Extra bass punches and sound details;Dolby Home Theater: Complete Hi-Fi enjoyment;GX2.5: for the most immersive in-game experiences;Hi-Fi class audio: Powered by exclusive Hyper Grounding technology, USB
[BRAND] ASUS
[MPN#] XONAR_U3/UAD/B/A
Stocked at supplier
$71.00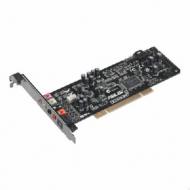 Asus Xonar DG PCI Gaming soundcard, 5.1 Channel, Built-in Headphone AMP, 3 gain modes for different usage scenarios, Dolby® Headphone for an immersive 5.1 surround imaging, GX2.5 for realistic 3D audio effects, Up to 105dB, Automatic jack-sensing front-panel output, Bundled with low-profile bracket.
[BRAND] ASUS
[MPN#] 90-YAA0K0
Stocked at supplier
$43.00

Asus Xonar DX PCIE soundcard, Dolby Home Theater Technologies & Richest Gaming Audio Effects for best PC audio upgrade, Powered by complete Dolby Home Theater technologies, Supports latest DS3D GX 2.0 for gaming on Vista & XP, VocalFX voice processing technologies to make gaming and online chat more lively and attractive, Delivers ~35 times
...

more
cleaner audio quality (116dB SNR) than most motherboard audio (85dB SNR) Audio Processor: ASUS AV100 High-Definition Sound Processor (Max. 192KHz/24bit) 24-b

[BRAND] ASUS
[MPN#] 90-YAA060
Stocked at supplier
$135.00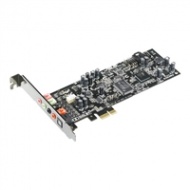 PCI Express 7.1-channel audio card•GX2.5 for realistic 3D gaming audio effectsts•DTS® Connect technology for an immersive 7.1 surround experience•192k/24bit True PC Hi-Fi Enjoyment•Swappable OPamp socket - Tune up your own sound with ease•Auto-detect front-panel - best flexibility and connectivity
[BRAND] ASUS
[MPN#] XONAR-DSX
Stocked at supplier
$92.00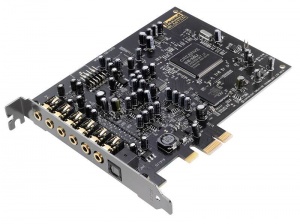 Audigy Rx features an SNR of 106dB, a 600-ohm headphone amp for studio monitoring, and a software suite that allows full audio customization.
[BRAND] Creative
[MPN#] CRV-70SB155000001
Stocked at supplier
$126.00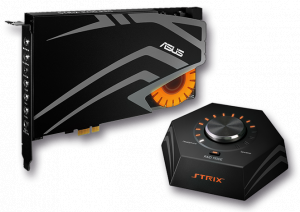 7.1 PCIe gaming sound card set with an audiophile-grade DAC and 116dB SNR
[BRAND] ASUS
[MPN#] STRIX-RAID-PRO
Stocked at supplier
$197.00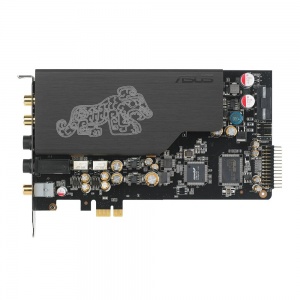 Essence STX II PCIe Sound Card and Headphone Amplifier
[BRAND] ASUS
[MPN#] ESSENCE STX II
Stocked at supplier
$403.00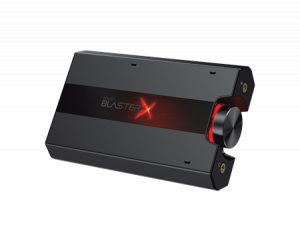 The pocket sized Sound BlasterX G5 delivers massively superior gaming audio performance in a compellingly tiny form factor. This virtual 7.1 24-bit (192kHz), 120dB USB Digital Audio Converter (DAC) and headphone amplifier delivers for the ultimate headphone gaming audio experience whether it is for your PC or for your gaming console.
[BRAND] Creative
[MPN#] CRV-70SB170000000
Stocked at supplier
$230.00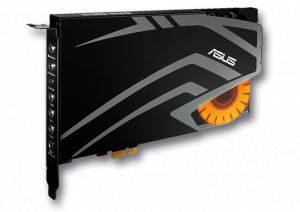 7.1 PCIe gaming sound card, audiophile-grade DAC,116dB SNR, 10Hz to 48KHz, C-Media USB2.0 6632AX HD Sound Processor
[BRAND] ASUS
[MPN#] STRIX-SOAR
Stocked at supplier
$140.00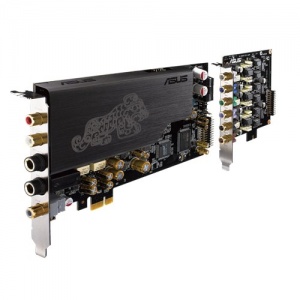 Essence STX II 7.1 PCIe Sound Card and Headphone Amplifier
[BRAND] ASUS
[MPN#] ESSENCE STX II 7.1
Stocked at supplier
$505.00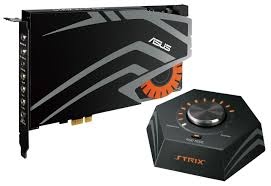 7.1 PCIe gaming sound card set with an audiophile-grade DAC and 124dB SNR
[BRAND] ASUS
[MPN#] STRIX-RAID-DLX
Stocked at supplier
$290.00