Computer Systems: Shuttle
| | |
| --- | --- |
| | |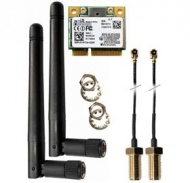 Shuttle WLN-C WLAN accessory for SX79R5, SZ77R5, SZ68R5, SH67H3, SH67H7, SH61R4, SH87R6, SZ87R6 (53cm+53cm WLAN Cable) WLAN kit for Shuttle PCs: WLN-C and WLN-S The Shuttle Accessory WLN-C/WLN-S is a wireless LAN kit consisting of a Mini-PCIe card, two antennas and appropriate cables. This accessory is intended for compatible Shuttle PCs to equip
...

more
them with the wireless LAN standard according to IEEE 802.11b/g/n. Data transfer speeds of up to 300 MBit/s can be reached and WPA2 with AES encryption is supported, too. What are the advantages over a conventional WLAN USB stick? The Mini-PCIe card sits in the case and is better protected from tampering and theft The integrated solution is more appealing For the best possible efficiency the antenna should be at least 6cm long (half a wavelength at 2.4 GHz) which is a big advantage over the USB stick The use of two antennas makes the communication between devices more reliable and can also transmit two signals at the same time resulting in significantly faster speeds as with single antenna WLAN devices The transmission protocol of Mini-PCIe cards is less complex compared to USB which helps keep processor load lower Specifications: Contents 1. Mini PCIe Card (x1) 2. Antenna cable (x2) 3. Antenna (x2) 4. Quick Guide (x1) 5. Driver DVD (x1) Standard: WiFi IEEE 802.11b/g/n, 2T2R (2 transmitter, 2 receiver) Maximum PHY data rate: 144.4/300Mbps using 20/40MHz bandwidth Adapter card: model Chicony XW724E-K Half-size Mini-PCI-Express extension card Dimensions: 26.65 x 29.85 x 3.25 mm (LWH) Chipset: Realtek RTL8192CE Supported operating systems: Windows XP, Windows 7 32/64 Bit, Windows 8 32/64 Bit Frequency Band: 2400 ~ 2483.5 MHz Output power (typ.): 16/14/13 dBm in 802.11b/g/n mode Receiver Sensity (max.): -83/-70/-67/-64 dBm in 802.11 b/g/n(HT20-MCS7)/n(HT40-MCS7) mode Power consumption under Windows 7: TX mode: max. 1201 mW RX mode: max. 726 mW

[BRAND] Shuttle
[MPN#] WLN-C
Stock in store
$18.00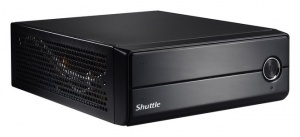 Supports 4K & Intel® Skylake Platform -XH170V Slim PC Shuttle's all-new XH170V slim PC is equipped with the Intel® H170 chipset and supports the latest Intel® 6th Generation Skylake LGA 1151 65W processor. The Intel® built-in graphics engine supports 4K/Ultra HD video playback providing stunning clear images. The XH170V delivers
...

more
content to three screens independently via one HDMI and two DisplayPort and has a wide range of I/O connectivity, including USB 2.0, USB 3.0, SATA 6Gbps, RS232, Mini PCIe, and Intel® Gigabit LAN. With one built-in M.2 and one Mini PCIe expansion slots, you can install an M.2 SSD, Wi-Fi module or other compatible devices providing strong expansion capability and network connectivity. The HX170V features Shuttle's heat pipe cooling with smart fan technology and is 24/7 certified and able to operate within 0-50 ?C temperatures to meet the requirements of diverse applications whether in Digital signage, Kiosk, HTPC, or office PC. Full spec: http://au.shuttle.com/products/productsSpec?productId=1915

[BRAND] Shuttle
[MPN#] XH170
Stocked at supplier
$350.00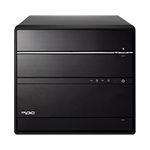 The high performance Mini PC with Intel® Skylake platform The new Shuttle XPC SH170R6 supports Intel® Skylake platform technology. This new model packs Intel® the latest 6th generation LGA 1151 95W processor. With Core™ i3/i5/i7 processors built-in graphics core, the SH170R6 is able to support 4k/Ultra HD video playback. At
...

more
back panel of SH170R6 provides one HDMI and two DisplayPort to support three independent screen displays. The SH170R6 features one PCI-E x16 slot and one PCI-E x4, allowing for installation of dual slot graphics cards, video surveillance cards, RAID cards, and more applications. It also features strong expandability with one M.2 and one half-size Mini PCIe slots support for M.2 SSD and a WiFi card or other compatible modules. Equipped with Shuttle's I.C.E 2™ cooling engine as well as 80 Plus Bronze certified with a 300W power supply, allows the SH170R6 to feature high energy efficiency and maintain high stability for long-term operation. Full spec: http://au.shuttle.com/products/productsSpec?productId=1925

[BRAND] Shuttle
[MPN#] SH170R6
Stocked at supplier
$463.00 FORM FACTOR Shuttle 1.3L Chassis PROCESSOR Intel Celeron 3855U Processor i3 6100U, i5 6200U, i7 6500U (optional) MEMORY 2 x 204 pin DDR3L SODIMM slots, 16GB per DIMM (Max 32GB) Dual Channel DDR3L 1333/1600 Mhz VIDEO OUTPUT DisplayPort + HDMI dual display AUDIO Realtek ALC662 2 channel High Definition audio ETHERNET Intel
...

more
i211 and i219LM 100Mb/s and 1Gb/s operation Support Wake-On-LAN function Realtek 802.11 ac/b/g/n + Bluetooth 4.0 WLAN M.2 module STORAGE INTERFACE 6.0Gb/s bandwidth SATA3 ONBOARD CONNECTORS (1) 2.5 inch SATA connector (1) Clear CMOS (1) Auto power on FRONT PANEL (1) Power on button (1) Power LED (1) HDD LED (2) USB 2.0 ports (2) USB 3.0 ports (1) RS232/RS422/RS485 (1) RS232 (1) SD Card reader BACK PANEL (2) RJ45 Gigabit LAN (1) HDMI (1) DisplayPort (2) USB 2.0 ports (1) MIC in (1) Line out (1) External power on header (1) Clear CMOS (1) DC-in (1) Kensington lock (2) Wireless antenna fixture DRIVE BAYS (1) 2.5' HDD / SSD bay DIMENSIONS 200(L) x 165(W) x 39.5(H) mm Dimension drawing POWER Input:100- 240V AC Output: 19V/3.42A or 12V/5.42A DC 65W 19V Adapter bundled EXPANSION SLOT (1) M.2 2242 Type M key socket (1) M.2 2230 Type A,E Key socket OS SUPPORT Windows 7 Windows 8.1 Windows 10 Linux

[BRAND] Shuttle
[MPN#] DS67U
Stocked at supplier
$385.00