Multimedia Devices: ASUS
| | |
| --- | --- |
| 174 item(s) | Price incl. GST |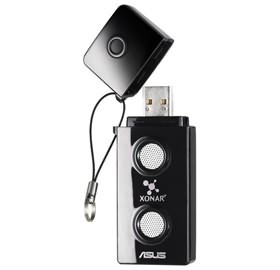 Asus Xonar-U3,Headphone amplifier: Extra bass punches and sound details;Dolby Home Theater: Complete Hi-Fi enjoyment;GX2.5: for the most immersive in-game experiences;Hi-Fi class audio: Powered by exclusive Hyper Grounding technology, USB
[BRAND] ASUS
[MPN#] XONAR_U3/UAD/B/A
Stocked at supplier
$57.00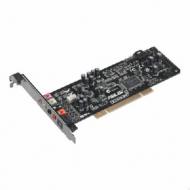 Asus Xonar DG PCI Gaming soundcard, 5.1 Channel, Built-in Headphone AMP, 3 gain modes for different usage scenarios, Dolby® Headphone for an immersive 5.1 surround imaging, GX2.5 for realistic 3D audio effects, Up to 105dB, Automatic jack-sensing front-panel output, Bundled with low-profile bracket.
[BRAND] ASUS
[MPN#] 90-YAA0K0
Stocked at supplier
$43.00

Asus Xonar DX PCIE soundcard, Dolby Home Theater Technologies & Richest Gaming Audio Effects for best PC audio upgrade, Powered by complete Dolby Home Theater technologies, Supports latest DS3D GX 2.0 for gaming on Vista & XP, VocalFX voice processing technologies to make gaming and online chat more lively and attractive, Delivers ~35 times
...

more
cleaner audio quality (116dB SNR) than most motherboard audio (85dB SNR) Audio Processor: ASUS AV100 High-Definition Sound Processor (Max. 192KHz/24bit) 24-b

[BRAND] ASUS
[MPN#] 90-YAA060
Stocked at supplier
$144.00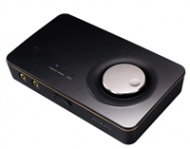 Asus Xonar-U7, USB, Compact 7.1-channel USB soundcard and headphone amplifier with 192kHz/24-bit HD sound True 7.1-channel, 192kHz/24-bit high definition sound from a compact USB-powered device Dedicated mic volume control for instant adjustments right in the heat of gaming action Integrated headphone amplifier pumps up every sound detail 114dB
...

more
signal-to-analog ratio (SNR) ensures pure sound Dolby® Home Theater v4 delivers lively surround

[BRAND] ASUS
[MPN#] XONAR-U7
Stocked at supplier
$120.00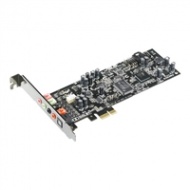 PCI Express 7.1-channel audio card•GX2.5 for realistic 3D gaming audio effectsts•DTS® Connect technology for an immersive 7.1 surround experience•192k/24bit True PC Hi-Fi Enjoyment•Swappable OPamp socket - Tune up your own sound with ease•Auto-detect front-panel - best flexibility and connectivity
[BRAND] ASUS
[MPN#] XONAR-DSX
Stocked at supplier
$82.00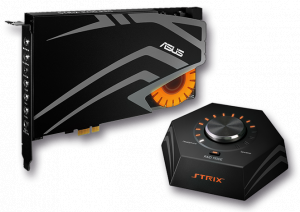 7.1 PCIe gaming sound card set with an audiophile-grade DAC and 116dB SNR
[BRAND] ASUS
[MPN#] STRIX-RAID-PRO
Stocked at supplier
$197.00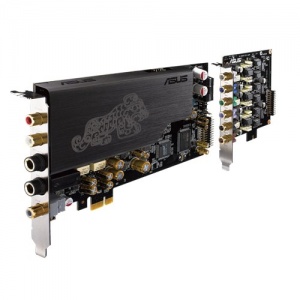 Essence STX II 7.1 PCIe Sound Card and Headphone Amplifier
[BRAND] ASUS
[MPN#] ESSENCE STX II 7.1
Stocked at supplier
$505.00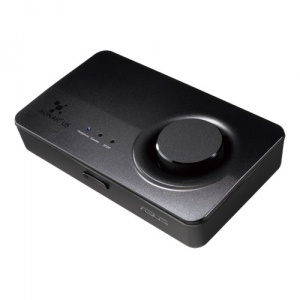 Xonar U5, Compact 5.1 Channel USB Sound Card and Headphone Amplifier
[BRAND] ASUS
[MPN#] XONAR U5
Stocked at supplier
$129.00

Page 1 | 2 |