Motherboards: AMD-FM2
| | |
| --- | --- |
| 10 item(s) | Price incl. GST |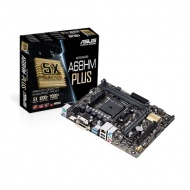 ASUS A68HM-PLUS/ 2xDDR3/ 1xPCI-E3.0/1xPCI-E2.0/ 1xPCI/ 4xSATA 6Gb/4 x USB3.0/ 6 x USB2.0/ Raid/ HDMI/ DVI/RGB/ mATX. CPU AMD Socket FM2+ Athlon™/A- Series Processors Supports CPU up to 4 cores Supports AMD® Turbo Core 3.0 Technology Chipset AMD A68H FCH (Bolton D2H) Memory 2 x DIMM, Max. 32GB, DDR3 2400(O.C.)/2133/1866/1600/1333 MHz
...

more
Non-ECC, Un-buffered Memory Dual Channel Memory Architecture Support AMD Memory Profile (AMP) memory * The Max. 32GB memory capacity can be supported with DIMMs of 16GB (or above). ASUS will update QVL once the DIMMs are available on the market. * Hyper DIMM support is subject to the physical characteristics of individual CPUs. * Due to OS limitation, when installing total memory of 4GB capacity or more, Windows® 32-bit operation system may only recognize less than 3GB. Install a 64-bit Windows® OS when you want to install 4GB or more memory on the motherboard. Graphic Integrated AMD Radeon™ R/HD8000/HD7000 Series Graphics in the A-Series APU Multi-VGA output support : HDMI/DVI/RGB ports -Supports DMI with max. resolution 4096 x 2160 @ 24 Hz/1920 x 1200 @ 60 Hz - Supports DVI with max. resolution 2560 x 1600 @ 60 Hz - Supports RGB with max. resolution 1920 x 1600 @ 60 Hz Maximum shared memory of 2048 MB AMD® Dual Graphics technology support *1 Expansion Slots 1 x PCIe 3.0/2.0 x16 *2 1 x PCIe 2.0 x1 1 x PCI Storage AMD A68H FCH (Bolton D2H) chipset : 4 x SATA 6Gb/s port(s), gray Support Raid 0, 1, 10, JBOD LAN : Realtek® 8111GR, 1 x Gigabit LAN Controller(s) Audio: Realtek® ALC887-VD 8-Channel High Definition Audio CODEC *3 USB Ports 4 x USB3.0 (2 at back & 2 at mid-board) 6 x USB2.0 (2 at back & 4 at mid-board) Form Factor mATX 8.9 inch x 7.2 inch ( 22.6 cm x 18.3 cm )

[BRAND] ASUS
[MPN#] A68HM-PLUS
Stocked at supplier
$84.00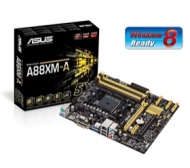 FM2+ socketed motherboard features high-endurance 5X Protection and new UEFI BIOS on the A88X chipset•ASUS 5X PROTECTION - All-round protection provides the best quality, reliability, and durability•New UEFI BIOS – Friendlier, easier, and more intuitive with helpful info added•USB 3.0 Boost (UASP Support) - 170% faster
...

more
transfer speeds than traditional USB 3.0•Network iControl - Real-time network bandwidth management

[BRAND] ASUS
[MPN#] A88XM-A
Stocked at supplier
$126.00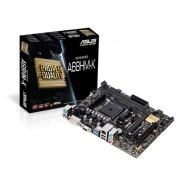 ASUS A68HM-K/ 2xDDR3/ 1xPCI-E3.0/1xPCI-E2.0/ 1xPCI/ 4xSATA 6Gb/2 x USB3.0/ 6 x USB2.0/ Raid/ DVI/ RGB/ mATX. CPU AMD Socket FM2+ Athlon™/A- Series Processors Supports CPU up to 4 cores Supports AMD® Turbo Core 3.0 Technology Chipset AMD A68H FCH (Bolton D2H) Memory 2 x DIMM, Max. 32GB, DDR3 2400(O.C.)/2133/1866/1600/1333 MHz Non-ECC,
...

more
Un-buffered Memory Dual Channel Memory Architecture Support AMD Memory Profile (AMP) memory * The Max. 32GB memory capacity can be supported with DIMMs of 16GB (or above). ASUS will update QVL once the DIMMs are available on the market. * Hyper DIMM support is subject to the physical characteristics of individual CPUs. * Due to OS limitation, when installing total memory of 4GB capacity or more, Windows® 32-bit operation system may only recognize less than 3GB. Install a 64-bit Windows® OS when you want to install 4GB or more memory on the motherboard. Graphic Integrated AMD Radeon™ R/HD8000/HD7000 Series Graphics in the A-Series APU Multi-VGA output support : DVI/RGB ports - Supports DVI with max. resolution 2560 x 1600 @ 60 Hz - Supports RGB with max. resolution 1920 x 1600 @ 60 Hz Maximum shared memory of 2048 MB AMD® Dual Graphics technology support *1 Expansion Slots 1 x PCIe 3.0/2.0 x16 *2 1 x PCIe 2.0 x1 1 x PCI Storage 4 x SATA 6Gb/s port(s), gray Support Raid 0, 1, 10, JBOD LAN :Realtek® 8111GR, 1 x Gigabit LAN Controller(s) Audio : Realtek® ALC887-VD 8-Channel High Definition Audio CODEC *3 USB Ports : 6 x USB 2.0/1.1 ports (2@back, 4@mid board) 2 x USB 3.0 ports (2@back) Form Factor mATX 8.9 inch x 7.0 inch ( 22.6 cm x 18.0 cm )

[BRAND] ASUS
[MPN#] A68HM-K
Stocked at supplier
$82.00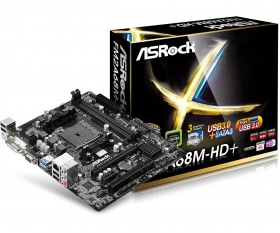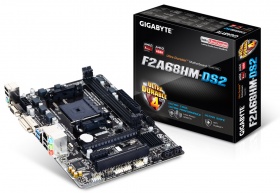 FM2+,A68,u-ATX
[BRAND] Gigabyte
[MPN#] GA-F2A68HM-DS2
Stocked at supplier
$73.00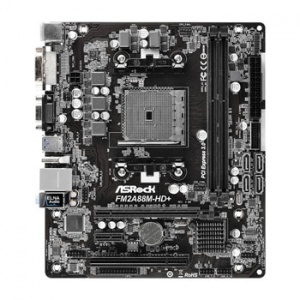 Supports Socket FM2+ 95W / FM2 100W processors

Supports DDR3 2400+(OC)

Supports AMD Dual Graphics

Supports Full Spike Protection, ASRock Live Update & APP Shop
[BRAND] ASrock
[MPN#] FM2A88M-HD+_R3.0
Stocked at supplier
$88.00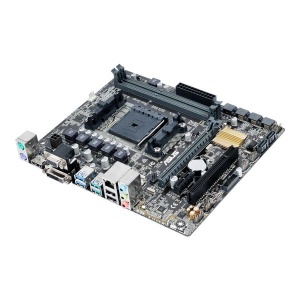 5X Protection II – Advanced hardware safeguards for all-round protection

Ultimate 10Gbit/s USB 3.1 Gen 2 onboard

Epic gaming audio with LED-illuminated shielding

Media-acclaimed UEFI BIOS with EZ Flash 2
[BRAND] ASUS
[MPN#] A88XM-E/USB 3.1
Stocked at supplier
$102.00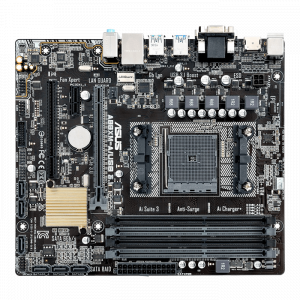 5X Protection II – Advanced hardware safeguards for all-round protection

Ultimate 10Gbit/s USB 3.1 Gen 2 onboard

Epic gaming audio with LED-illuminated shielding

Media-acclaimed UEFI BIOS with EZ Flash 2
[BRAND] ASUS
[MPN#] A88XM-A/USB 3.1
Stocked at supplier
$126.00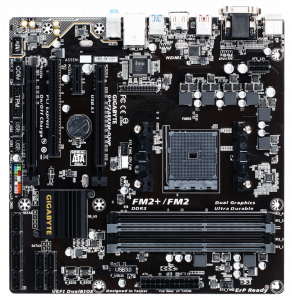 Fast USB 3.1 with USB Type-C -The Worlds Next Universal Connector

Supports AMD FM2+/FM2 A-series APU

Audio Noise Guard with High Quality Audio Capacitors

All solid capacitors design
[BRAND] Gigabyte
[MPN#] GA-F2A88XM-D3HP
Stocked at supplier
$120.00 Supports AMD FM2+/FM2 A-series APU Dual Channel DDR3, 2 DIMMs

2-way CrossFire™ Multi-graphics support Audio Noise Guard with High Quality Audio Capacitors

HDMI 1.4, Dual-link DVI-D, D-sub ports for Triple-Monitor support

All solid capacitors design
[BRAND] Gigabyte
[MPN#] GA-F2A88XM-HD3P
Stocked at supplier
$90.00