Fax/Modems: Netcomm
| | |
| --- | --- |
| 15 item(s) | Price incl. GST |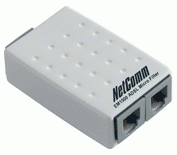 EM1500 is a distributed Filter/Splitter for use with a phone line overlayed with an ADSL service
Isolate tel equipment impedances from the ADSL & Home Phone Network (HPN) house wiring
Attenuate ADSL & HPN signals to telephone equipment to prevent conversion to voice band signals
Attenuate radio signals picked up by unbalanced telephone
[BRAND] Netcomm
[MPN#] EM1550
>100+ sold
Stock in store
$19.00

Netcomm NB604N WirelessN300 Modem Router 4port 10/100, IPv6 ready, USB storage port
[BRAND] Netcomm
[MPN#] NB604N
>20+ sold
Stock in store
$97.00

Featuring a VDSL2/ADSL2+ modem and a Gigabit WAN port, you can choose whether you connect to the Internet via DSL or a fibre service. If you do not have a fibre connection, the Gigabit WAN port will have you protected should you choose to update in the future. NetComm Wireless will ALSO have you covered should the network connection switch to
...

more
VDSL. The included FXS ports can be used to connect standard telephones that will allow users to makecalls over the Internet.

[BRAND] Netcomm
[MPN#] NF4V
Stocked at supplier
$163.00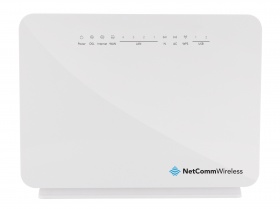 Netcomm NF8AC VDSL/ADSL AC1600 WiFi Gigabit Modem RouterFeaturing a fully featured VDSL/ADSL2+ Modem Router and a Gigabit WAN port, you can choose to connect to the internet via DSL or a fibre service now or in the future. With uncertainty around the future of the NBN , NetComm Wireless NF8AC will have you covered should the network switch to
...

more
VDSL. Designed and optimised for use on the NBN with Wireline Routing Speeds, IGMP Snooping, IPTV IGMP pass through, QoS. The latest AC WiFi technology provides users with up to 1300Mbps AC on the 5Ghz frequency and up to 300Mbps Wireless N on 2.4Ghz frequency.

[BRAND] Netcomm
[MPN#] NF8AC
Stocked at supplier
$189.00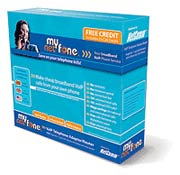 MYNETFONE VOIP SERVICE
FEATURES FXS/FXO PORTS
3-PORT LAN SWITCH, QOS & LANDLINE BACKUP.
[BRAND] Netcomm
[MPN#] VMNF300
Stock in store
$59.00