Monitors: AOC
| | |
| --- | --- |
| 13 item(s) | Price incl. GST | VGA/HDMI,FlickerFree,UltraSlim
[BRAND] AOC
[MPN#] I2379VHE
Stocked at supplier
$200.00 The AOC 81 Series is instantly eye-catching. The "Infinity Glass" screen extends to the edges of the ultra-slim body, and almost seems to float above the desktop on a beautifully refined metallic stand with elegantly sculpted angles.
[BRAND] AOC
[MPN#] I2781FH/75
Stocked at supplier
$364.00 VGA/DVI/HDMI/DP,Tilt,1ms,4K
[BRAND] AOC
[MPN#] U2879VF/75
Stock: 03-04-17
$576.00

15.6" AOC e1659Fwu FQ1 15.6" LED, USB 3.0 Portable Monitor, 5ms, 1366x768, Contrast 500:1, Auto Pivot, VESA 75x75mm Multi-Task worktable. Up to six monitors when connected to Laptop/PC via USB hub. (Make sure Power is enough on USB hub.) Slim thckness: 22.9mm USB 3.0 Superpeed (5.0Gps) synchronous data transmission. 15'6" LED 200cd/m2, 500:1, 5ms
...

more
(GTG) 16.7 Million colours, USB 3.0 x1 Portrait: Auto Pivot Feature Perfect for Technician, On-site Support, showroom, bank, hotel, retail stores.

[BRAND] AOC
[MPN#] E1659FWU
Stock in store
$155.00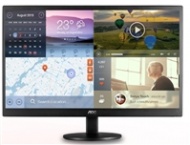 19.5" AOC e2070Swn (LCD, TN+Film , Wide, LED, 16:9, 1600×900, 1000:1, 200 cd/m2, 5ms, 170°/160°, D-Sub, Black) * 19.5" Widescreen 1366x768p resolution * 5ms Response, 20,000,000:1 Contrast (DCR) * Brightness: 25 cd/m2 * Wall-mount ready (100x100mm) *Ultra Low Power Consumption *LED Panel: Hg Free * 3 Years Nationwide Pickup & Return
...

more
Warranty Packing Pallets 19.5" W FOB Factory L&T Panel size 19.5" W 170/160 (CR=10) Screen Ratio 16:9 Response Time (Typical) 5ms Recommonded Resolution 1600×900@60Hz Contrast Ratio 600:1 (Typical),20000000:1 (DCR) Brghtness (Typical) 200 cd/m² Display Color 16.7M Viewing Angel (H/V) 90/50 Viewable Image Size (mm) 494.11 Display Area 433.92(H)×263.34 (V)mm Pixel Pitch (mm) 0.2712 Scan Frequency (H/V) 30-83KHz/ 50-76Hz Pixel Frequency 140MHz Input Signal Analog Input Connector 15-pin D-Sub Cable D-sub Built-in Speaker N/A HDCP Compatible N/A Input Power 100-240VAC, 50/60Hz Power Supply Build- in Operation Mode (W) 18W Stand by Mode (W) <0.5W Wall- Mount VESA 100x100mm Cabinet Color Black Phys. (W×H×D) mm 464.63×346.35×156 Package Box (W×H×D) mm 519×359×107 Weight (Net/ Gross)(Kg) 2.11/3.21 Tilt -3°~10° Pivot N/A Height Ajust N/A Swivel N/A Kensington lock YES Temperature Operating 0°C ~+40°C Temperature Non-Operating -25°C - 55°C Humidity Operating 10% to 85% Humiditiy Non-Operating 5% to 93% Altitude Operating 12,000 feet Altitude Non-Operating 40,000 feet Plug & Play VESA DDC2B™ & DDC2B/CI User Control Power/Auto Usb plug N/A OSD Languages by I-menu 13 languages Safety Regulation cCSAus,FCC,EPA 6.0,Windows 8,C-Tick,CH ROHS,CEL,CCC,ISO 9241-307,EPEAT,CECP Special Features 1. Low Power with LED PANEL,2. Hair-Line Texture Design,3. High DCR 20m:1,4. E-saver/I-menu/Screen Plus software

[BRAND] AOC
[MPN#] E2070SWN
Stock in store
$119.00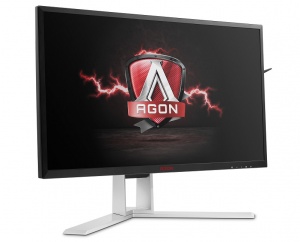 24.5inAG251FZ FULL HD ADAPTIVE-SYNC 1MS 240HZ DP HDMI(MHL) DVI-D VGA 20MILLION CONTRAST FLICKER FREE SPEAKER HAS USB HUB/CHARGER
[BRAND] AOC
[MPN#] AG251FZ/75
Stocked at supplier
$658.00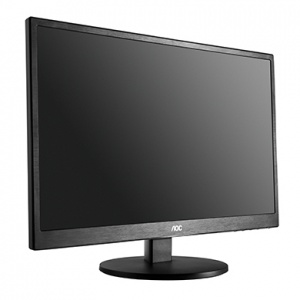 [BRAND] AOC
[MPN#] M2470SWH
Stocked at supplier
$168.00 Compact and PracticalE2270SWDN is ideal for compact work spaces, providing a sharp 21.5" Full HD screen framed by a narrow bezel.
[BRAND] AOC
[MPN#] E2270SWDN/75
Stocked at supplier
$147.00 Practical Good Looks. The AOC 70 Series is the ultimate sensible business monitor: outstanding value, efficient energy consumption, classic styling and excellent display technology.
[BRAND] AOC
[MPN#] E2770SH/75
Stocked at supplier
$268.00 Maximize your advantage with the AOC G2460VQ6 Monitor. By synchronizing the monitor's refresh rate with the GPU's frame rate in real time, FreeSync technology eliminates screen tearing and stuttering, which lets you claim the win you deserve.
[BRAND] AOC
[MPN#] G2460VQ6/75
Stocked at supplier
$219.00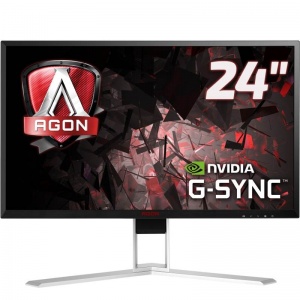 23.8in AG241QG NVIDIA G-SYNC 2560X1440 1MS 165HZ DP HDMI1.4 20MILLION CONTRAST FLICKER FREE SPEAKER HAS USB HUB/CHARGER
[BRAND] AOC
[MPN#] AG241QG/75
Stocked at supplier
$866.00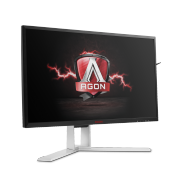 23.8in AG241QX ADAPTIVE-SYNC 2560X1440 1MS 144HZ DP HDMI1.4(MHL) DVI-D VGA 20MILLION CONTRAST FLICKER FREE SPEAKER HAS USB HUB/CHARGER
[BRAND] AOC
[MPN#] AG241QX/75
Stocked at supplier
$614.00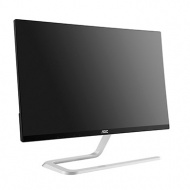 [BRAND] AOC
[MPN#] I2481FXH
Stocked at supplier
$234.00

*All new monitors are 3-year manufacture warranty